Description
Our Rust remover is part of our TT Paving Solutions range of cleaning solutions. Our Remove-It Rust Remover is ideal for removing a build-up of rust that is present on porcelain tiles and natural stone. Always test on a small area first. If using on polished stones check to make ensure there is no change in appearance.
IMPORTANT NOTE: Some surfaces may change colour after treatment when using Rust Remover. Not intended for use on vinyl or plastic surfaces.
Product Video Description
Remove-It Rust Remover Product Benefits
Ready to use.
Works without damaging the surface.
Extremely easy to use.
Works deep into the flags.
How To Remove Rust Video Tutorial
Step-by-Step Guide to Remove Rust From Tiles
Step 1: Equip Yourself
Ensure you have the following essentials:
TT Paving Solutions Remove-It Rust Remover
Protective gear (gloves and goggles)
A stiff-bristled brush
Clean water
A sponge and dry cloths
Step 2: Safety First
Always prioritize your safety. Wear gloves and goggles to protect yourself from the rust remover, and ensure adequate ventilation if you're indoors.
Step 3: Meticulous Application of Rust Remover
Apply Generously: Ensure the rust remover generously covers the entire stain.
Stay Wet: Keep the product wet on the surface to ensure its effectiveness.
Timing is Crucial: Allow it to act for up to 1 hour, ensuring it doesn't dry on the tile.
Rinse Thoroughly: After the application, rinse and wipe the area with a damp cloth.
Step 4: Scrubbing with Care
Utilize a stiff-bristled brush to scrub the treated area, applying adequate pressure to lift the rust stain. For persistent stains, a second round of application and scrubbing may be required.
Step 5: Rinse, Wipe, and Dry
Post-scrubbing, rinse the area thoroughly with clean water. Use a sponge to wipe away the solution and dry the area completely with clean cloths.
Step 6: Repeat if Necessary
For stubborn stains, repeat the process until the rust is entirely eliminated.
Step 7: Final Touches for Longevity
Once the rust is removed and the area is dry, consider applying a sealant, like the Seal-It solution, to the entire tiled area to delay the recurrence of rust formation.
Technical Data Sheet And Other Resources
Product Safety Information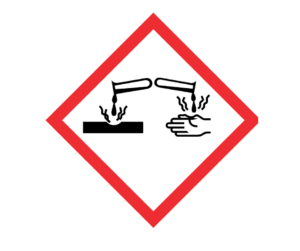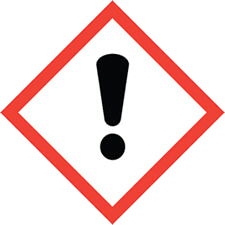 Keep the room well ventilated whilst using this product. Keep away from children and pets. Exposure to the skin may cause dryness and cracks. Harmful if swallowed. Irritant to eyes and skin. Wear suitable protective gloves.
DANGER: IRRITANT
H315: Causes skin irritation. H317: May cause allergic skin reaction. H319: Causes serious eye irritation. H335: May cause respiratory irritation. P260: Do not breath dust/fume/gas/mist/vapours/spray. P280: Wear protective gloves/protective clothing/eye protection/face protection. P301+P330+P331: If swallowed rinse mouth. DO NOT induce vomiting. P303+P361+P353: If on the skin (or hair), remove all contaminated clothing. Rinse skin with water/shower. P305+P351+P338: If in eyes rinse cautiously with water for several minutes. Remove contact lenses if present and safe to do. Continue rinsing.
Must read entire label and technical data sheet before use. These can be found at www.tilerstools.co.uk. It is the user's responsibility to determine the suitability of the product for the intended use.
Visit our YouTube channel for a wide range of videos on our full range of products.